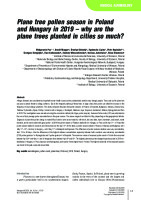 Plane tree pollen season in Poland and Hungary in 2019 – why are the plane trees planted in cities so much?
Alergoprofil 2020, Vol. 16, 1, 15-20.
Autorzy: Małgorzata Puc, Donát Magyar, Orsolya Udvardy, Agnieszka Lipiec, Piotr Rapiejko, Grzegorz Siergiejko, Ewa Kalinowska, Andrzej Wieczorkiewicz, Dariusz Jurkiewicz, Alina Stacewicz
Streszczenie:&nbsp
Abstract:&nbspAllergic diseases are considered as important human health issues as they substantially restrict many allergic people. Trees such as the plane treecan pose a certain threat to allergy sufferers. Due to the frequent planting of these trees in large cities, their pollen can affect the increase in thefrequency of local allergy symptoms. This study compares the plane tree pollen seasons in Poland, in Bialystok, Bydgoszcz, Warsaw, Zielona Gora,Piotrkow Trybunalski, Opole, Olsztyn, Szczecin and in Hungary, in Budapest, Debrecen, Gyor, Kaposvar, Kecskemet, Miskolc, Nyiregyhaza and Pecsin 2019. The investigations were carried out using the volumetric method (Hirst type pollen sampler). Seasonal Pollen Index (SPI) was estimated asthe sum of daily average pollen concentrations in the given season. The season ranges from March to May, depending on the geographical latitude.Diagnosis of plane tree pollen allergy is made difficult due to some cross-reactivity with birch, but also alder, hazel, hornbeam, oak, beech, sweetchestnut, and to some extent with grass pollen. In 2019 the pollen season of Platanus started first in Hungary, in Pecs on the April 1st; in Poland the pollen season started in Szczecin and Zielona Gora on the April 4th. At the latest, a pollen season ended in Poland, in Warsaw and Bydgoszcz until May 11th–12th, similarly in Hungary – until May 11th in Budapest and Kaposvar. The differences of pollen seasons duration were very considerable,from 15 to 40 days. Also the differences of the highest airborne concentration especially between both countries were extremely considerable (2105 pollen grains/m3 in Nyíregyháza and 3 pollen grains/m3 in Białystok. The maximum values of seasonal pollen count in Polish cities occurred between April 24th and May 1st, and in Hungarian cities between April 9th and 16th. The highest plane tree pollen allergen hazard occurred in 2019 undoubtedly in Hungary: in Pecs, Kaposvar and Nyiregyhaza, and was ten times higher than in Poland. The highest variability in the analysed seasons was found in the peak value and annual total.
Key words:&nbspaeroallergens, pollen count, plane tree (Platanus), 2019, Poland, Hungary
Ten materiał jest chroniony prawami autorskimi. Wykorzystywanie do dalszego rozpowszechniania bez zgody właściciela praw autorskich jest zabronione. Zobacz regulamin korzystania z serwisu mededu.pl