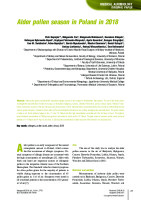 Alder pollen season in Poland in 2018
Alergoprofil 2018, Vol. 14, Nr 1, 27-31.
Autorzy: Piotr Rapiejko, Małgorzata Puc, Małgorzata Malkiewicz, Kazimiera Chłopek, Katarzyna Dąbrowska-Zapart, Krystyna Piotrowska-Weryszko, Agata Konarska, Grzegorz Siergiejko, Ewa M. Świebocka, Adam Rapiejko, Dorota Myszkowska, Monika Ziemianin, Daniel Kotrych,
Streszczenie:&nbsp
Abstract:&nbspAlder pollen grains constitute the important allergen sources in this respect in the Northern Hemisphere. The aim of the study was to investigate the concentration of alder (Alnus spp.) in Bialystok, Bydgoszcz, Cracow, Drawsko Pomorskie, Lublin, Olsztyn, Opole, Piotrkow Trybunalski, Sosnowiec, Szczecin, Warsaw, Wroclaw and Zielona Gora in 2018. Measurements were performed by the volumetric method (Burkard and Lanzoni pollen samplers). Seasonal Pollen Index (SPI) was estimated as the annual sum of daily average pollen concentrations. The pollen season of alder in all Polish stations began on the 11th and 13th March and the high concentration persisted until the first days of April. The highest, record airborne concentration of 1068 pollen grains/m3 was noted in Lublin on the 13th March. The peak values of seasonal pollen count occurred between of 11th March and 4th April in all cities. In 2018 pollen concentration of alder was one of the lowest in all analysed cities.
Key words:&nbspallergens, pollen count, alder (Alnus), 2018